This is a terrific article on chronic neck and back pain by my friend and colleague Lori Peacock of Physical Performance Solutions. As a Pilates Teacher, the points she makes are what I try to teach people all the time, since my number one function is as a movement educator. Her statement that "exercising with EDUCATION is the most important key to relieving neck and back pain" is a point I am constantly trying to make. It is absolutely true that people exercising in dysfunctional movement patterns perpetuate the dysfunction, and therefore the pain.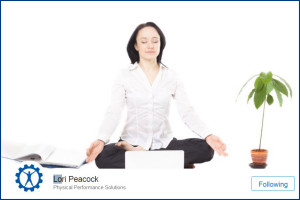 Be the CEO of your body and your life
A recent JAMA article, JAMA Intern Med. Published online January 11, 2016. doi:10.1001/jamainternmed.2015.7636, demonstrates exercising with education, performed on a regular basis, continues to be the ticket for relieving low back or neck pain.
Three things in the article screams off the page. These three things must work together for exercise to be the most beneficial:
Consistency in the person performing the exercise
Educate, educate, educate
Optimize how muscles and tissue function together through correction of dysfunctional movement patterns
Consistency in the person performing the exercise
Over and over we see when there is no consistency with exercise after low back injuries, eventually pain and limitations return. http://www.ncbi.nlm.nih.gov/pubmed/19177524. Learning new habits and utilizing methods to change bad habits are critical to establishing consistent exercise. Consistent exercise really pays off.
Educate, educate, educate
People are, in general, self centered creatures. When we have the information, and understand it well, the chances of follow through are greater.
Optimize your muscles and tissue
Although this is not a new topic, it is a new topic. Too many people exercising do not incur the benefits because dysfunctional movement patterns have not been identified. These individuals remain in the same dysfunctional pattern, which continues to perpetuate the dysfunction..
What are a few (and just a few, otherwise we'd be here for a while), types of devices and other treatments used for back pain?
Devices/Gadgets:
Home decompression units
Home laser units
Belts for low back, SI
Taping
Home massagers
Magnets
Whirlpools and jetted tubs
Compression garments
Fee based alternative treatments:
Massage therapists
Feldenkrais
Alexander Technique
Acupuncture
Energy healing
All of these and then some are good adjuncts for acute and chronic physical musculoskeletal issues and should not be neglected, especially if we want to remain as physical able for the length of our days.
Be the CEO of your body and your life. You'll be so glad you did.